Visitors are welcome at any of my lands!
Pleasant Acres
Edit
Is Margetb's farmland and main land. Most of her toys and premium items are sitting out and ready to enjoy there.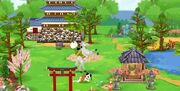 Tranquility
Edit
Margetb's peaceful land for relaxation. It has an oriental garden theme.
Egyptian Vacation
Edit
Margetb's desert oasis is ready for you to visit. Watch out for the camel poop!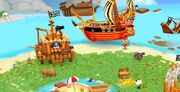 Pirate Lakes
Edit
Avast Ye Mateys! This land is for Margetb's grandsons to enjoy. Don't be surprised if you see Peter Panda and Captain Hookhound fighting over a fishing hole.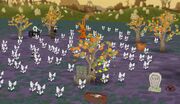 Spooky Land
Edit
This land is subject to change according to Margetb's whims and the whims of forum contest hosts. Right now its a Spooky Land. Watch out for that dragon! It's been swooping down and gobbling up the spiders.
Ad blocker interference detected!
Wikia is a free-to-use site that makes money from advertising. We have a modified experience for viewers using ad blockers

Wikia is not accessible if you've made further modifications. Remove the custom ad blocker rule(s) and the page will load as expected.