BlueCrow is to stupid to keep her big beak shut, she can reached through forum PM and though here user discussion page User:Bluecrow.
Bluecrow
BlueCrowLaughing
LunaSee
CaveCorvum
DuctTapeJedi
DrBartle
Rookwoods
Edit
The Rookwoods are BlueCrow's home base, her shop farm and newbie camps can be found there. BlueCrow asks that people not visit the farm while she's working though visiting pets are always welcome.
Mushroom Dessert
Edit
The Mushroom Oasis is LunaSee's relaxing getaway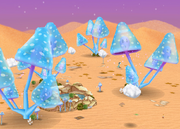 The Great Dessert
Edit
The Corbin Mountains
Edit
BlueCrowLaughing
Edit
For sale at 190x 178y
Ad blocker interference detected!
Wikia is a free-to-use site that makes money from advertising. We have a modified experience for viewers using ad blockers

Wikia is not accessible if you've made further modifications. Remove the custom ad blocker rule(s) and the page will load as expected.